Nespresso Momento Coffee Professional Coffee Machine
Simply Intuitive. A versatile range featuring easy to use technology for a seamless coffee experience.
1.499€
NESPRESSO MOMENTO
DETAILS ARE NOT JUST A DETAIL FOR HIGH QUALITY COFFEE EXPERIENCE
Discover a machine that turns coffee moments into memorable experiences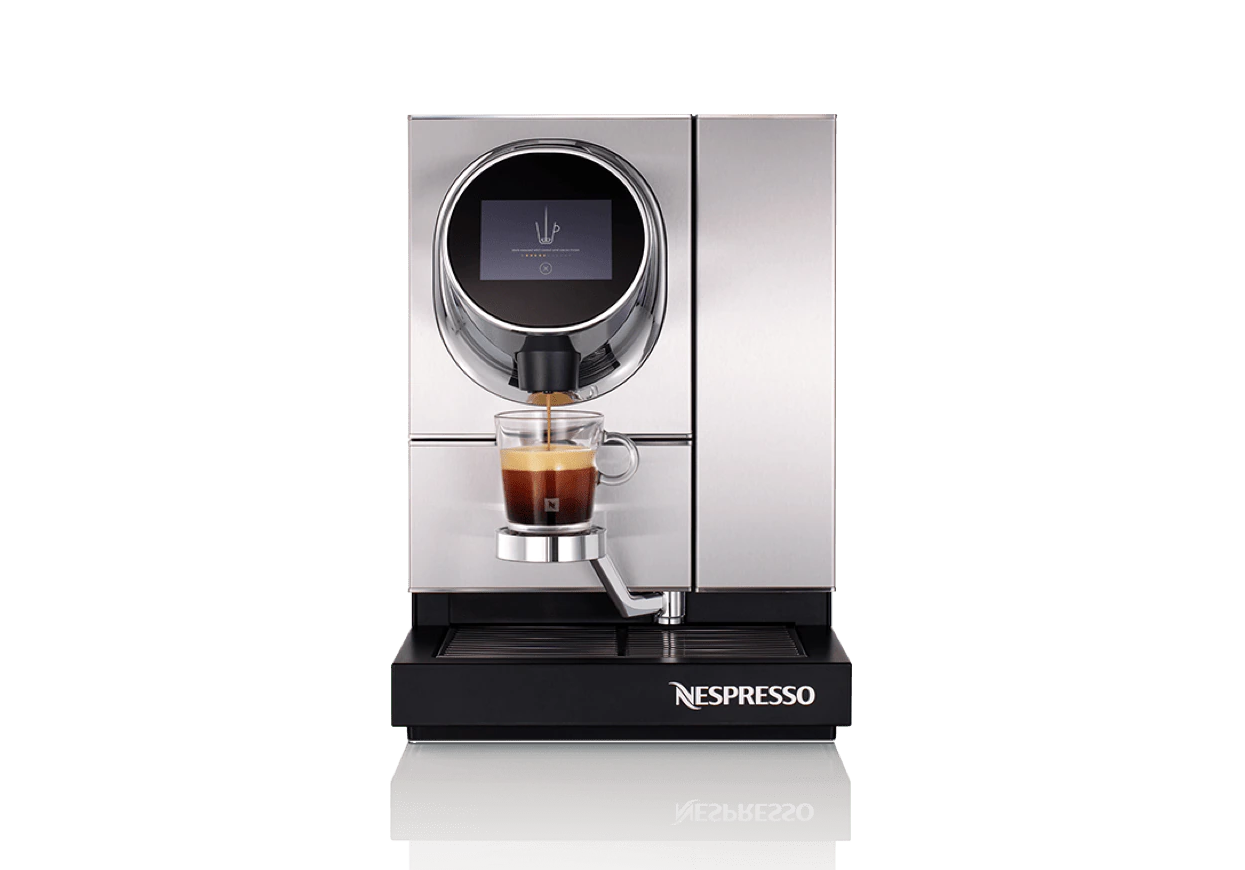 Nespresso Momento Coffee
TECH SPECS:
Weight: 16KG
Removable Water Tank: 3L
Dimensions (WXDXH): 300 X 500 X 420 MM
Pressure: Up to 19 BAR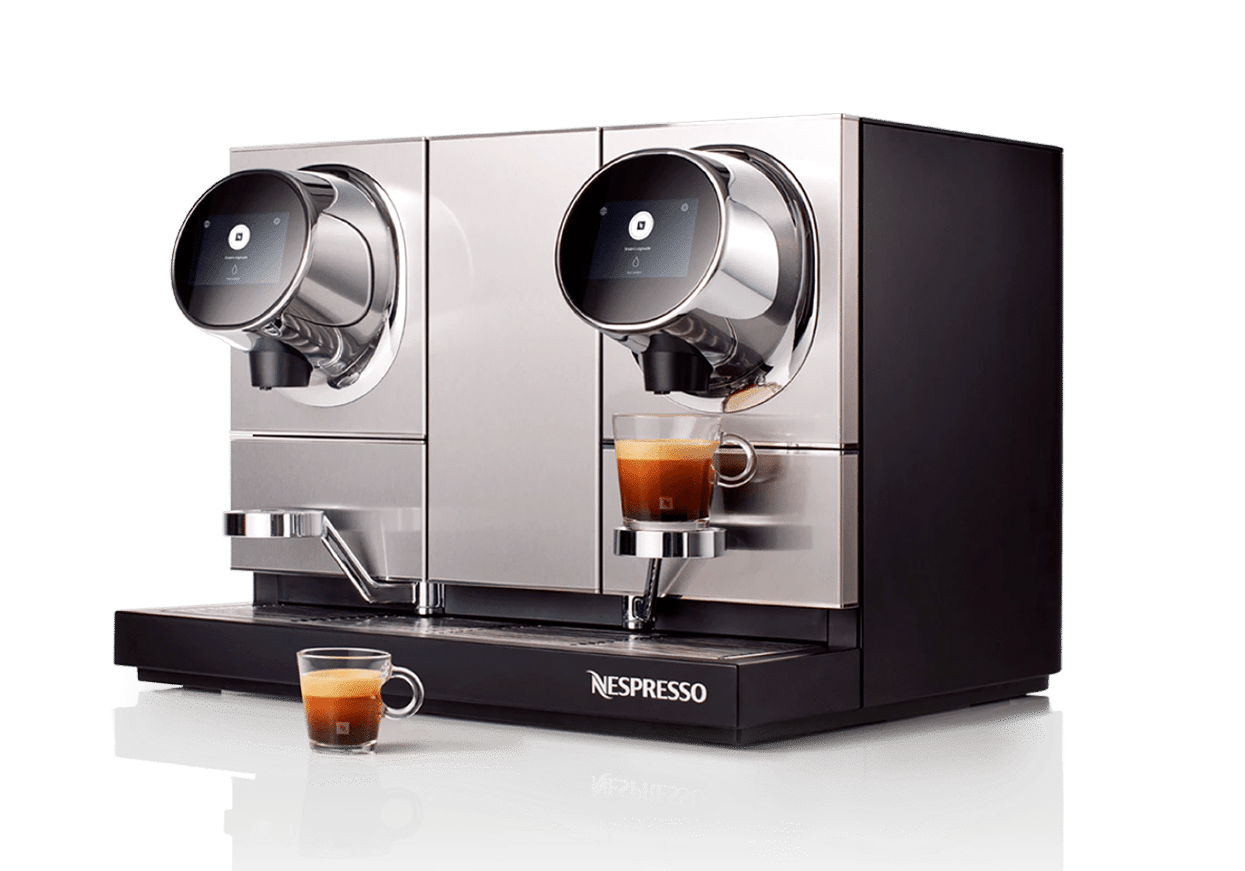 Nespresso Momento Coffee & Coffee
TECH SPECS:
Weight: 28 KG
Removable Water Tank: 3L
Dimensions (WXDXH): 560 X 500 X 420 MM
Pressure: Up to 19 BAR
Excellence is the signature of your establishment. Among those high quality services you want to offer to your guests : the coffee experience. Versatile and easy to set up, Nespresso Momento machines will meet all your needs, wherever you install them. Very intuitive to operate, your staff can focus on all small details that will create a perfect coffee moment.
Get the free trial
A MEMORABLE TASTEFUL EXPERIENCE IS NOT JUST A DETAIL FOR YOUR BUSINESS
Hotels, restaurants and guests from all over the world choose Nespresso Professional because this brand corresponds to their values of quality and standards: wide selection of extraordinary coffees, variety of tasteful milk recipes always served with the same quality, cup after cup. All these qualities are not a detail. They make delightful memorable moments that will contribute to your business.
18 Coffees to Suit Every Taste, Any Time of The Day
INTUITIVE USE FOR BOTH SERVED AND SELF-SERVED ENVIRONMENTS
With its intuitive display, Nespresso Momento has been designed to make coffee preparation seamless for everyone. Both in served or self-served mode, it's simplicity of use will be key for your guests.
CAPSULE RECOGNITION
CHOICE OF DIFFERENT CUP LENGTHS
INFORMATION ON COFFEE AROMATIC PROFILE
INTUITIVE USE FOR BOT SERVED AND SELF-SERVED MODES
EASY TO MOVE AND SET-UP
2 SET-UPS FOR A SEAMLESS SELF SERVED EXERIENCE
Thanks to a 400 capsules dispenser capacity, your Nespresso Momento gains autonomy. Available in side-by-side or in mini tower, choose the set-up that fits your venue. And for a paid coffee solution, your dispenser can be enriched with a payment system. So your guests can enjoy a high quality coffee moment wherever and whenever they want as they want.
CONTACT US
TOUCHLESS EASES SAFE INTERACTION
Remote control, automatic brewing or lock screen, all those contactless solutions are easy for you to set up, and easy for your guests. Safer for everyone.
Watch The Video
REDUCE COSTS, INCREASE SATISFACTION
Let yourself be guided by the intuitive screen for a simple daily maintenance. And with its modular design, you can easily access and replace critical components. Reducing costs and time is precious to focus on your guests satisfaction.
Solutions Are Made To Last
Like Nespresso Momento, sustainability is a key element of the Nespresso Professional approach
ROBUSTNESS
Do your guests love coffee at any time of the day? They 're right. Nespresso Momento is made to last, wish components that will withstand up to 250.000 coffees, or between 10 and 20 years depending on your consumption.
EASY TO REPAIR
Even if a piece of the machine breaks, don't worry. We won't throw it away. Nespresso Momento has been designed to be easily and quickly repaired and reused.
ENERGY AND WATER SAVINGS
ENERGY
Intuitive, Nespresso Momento is able to understand when you don't need it: it switches off its main component to go into standby mode. And when you want a coffee, its proximity sensor resumes from standby mode as soon as you approach from it.
WATER
No less, no more. Nespresso Momento is designed to consumes only the exact amount of water required to brew your coffee.
Discover our approach to sustainability