WE COMMIT TO OFFER YOU SAFE MOMENTS OF COFFEE!
AT NESPRESSO PROFESSIONAL WE GUARANTEE THAT OUR PRODUCTION, PRODUCTS AND PROCEDURES ARE ABSOLUTELY SAFE.
We support you with all the necessary measures and provide you advices on coffee issues, so that you can come back and continue in the best possible working conditions.
CAPSULE'S JOURNEY
Discover the 5 stages of a Nespresso capsule's journey from the countries of origin to the cup you hold in your hands and enjoy your favorite coffee carefree.

ORIGIN
As part of the AAA Sustainable Quality TM Program, we build direct and long-term relationships with more than 100,000 AAA farmers. During the COVID-19 pandemic, our 400 agronomists are in constant telephone contact with the growers to offer them advice and support.

QUALITY ASSURANCE
Nespresso products are produced under strict safety measures and quality standards.

QUALITY ASSURANCE
Freshly roasted coffee is hermetically sealed in aluminum capsules.

SECURITY
We have taken all measures to make the preparation of a Nespresso coffee easy and safe. Disinfect your hands and follow all safety instructions to enjoy your coffee.

SUSTAINABILITY
When you recycle Nespresso capsules, aluminum come back in another everyday objects
YOUR SAFETY IS ALWAYS OUR PRIORITY!
Follow the instructions to use the Nespresso Professional machine safely.

Disinfect your hands before and after using the machine or during maintenance.

Keep a distance of 2 meters, while waiting in the machine or when drinking your coffee.

Always use a disposable cleaning cloth when disinfecting the machine and the surrounding area.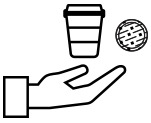 Use your own disposable cup or paper cup for hot or cold coffee.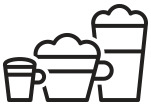 Enjoy your favorite Nespresso Professional coffee safely!
Services
WHAT ELSE CAN WE DO FOR YOU?
When running a company, your time is valuable. You need reliable technical support and dedicated services which leave you free to concentrate on developing your business. Whether it's delivery within 48 hours or the loan of extra machines,
Nespresso
takes care of the details for you.

Customized Payment Solution